If your hair is getting noticeably thinner…
… falling out in clumps especially around the outer third of your eyebrows, temples & forehead…
… scalp showing through…
… then lean in because I'm going to share with you how I started to grow thick hair again without supplements or the typical recommendations like "take some biotin", etc…
Tried those… didn't work…
Here's how I stopped my hair loss and started to grow thick hair again…
It all started in late 2012 when my hair was falling out in large amounts… more than usual… had a rubber band, stretchy like consistency…
One day, I was lathering my hair in the shower and felt this texture on my hands… I opened my eyes and saw hair everywhere…
It was on my hands…
The shower curtain…
The wall…
The drain was going to be clogged for sure after all that hair…
I rushed out of the shower, wiped off the foggy mirror and there it was…
#1 My eyebrows were thinning at the edges…
#2 My hair was noticeably thinner…
#3 My hair was falling out at the temples and forehead…
#4 Scalp was starting to show through…
Not really wanting a wig in my future, I set out to figure out how to make my hair appear fuller, and grow thick hair again…
I spent years researching thyroid hair loss success stories trying to figure out what other people were doing about it…
It seemed that no one had figured it out…
Lots of products that promise your hair will grow thick, but none seemed to work…
I'll share the hair products that did work for me, but first let me share something more important that will make a bigger difference…
See… at the time I was also trying to figure out what was going on with my body…
I felt like something was wrong, but didn't know what… I just didn't feel like myself… I was tired all the time… felt like an 84 year old living in a 28 year old body…
Losing that much hair at 28 wasn't normal…
… and then it came to me… I found something that worked!!
Not only did I regrow my hair but also got my energy back and was able to lose weight again.
… and when I started sharing this with others, they too started to grow thick hair again!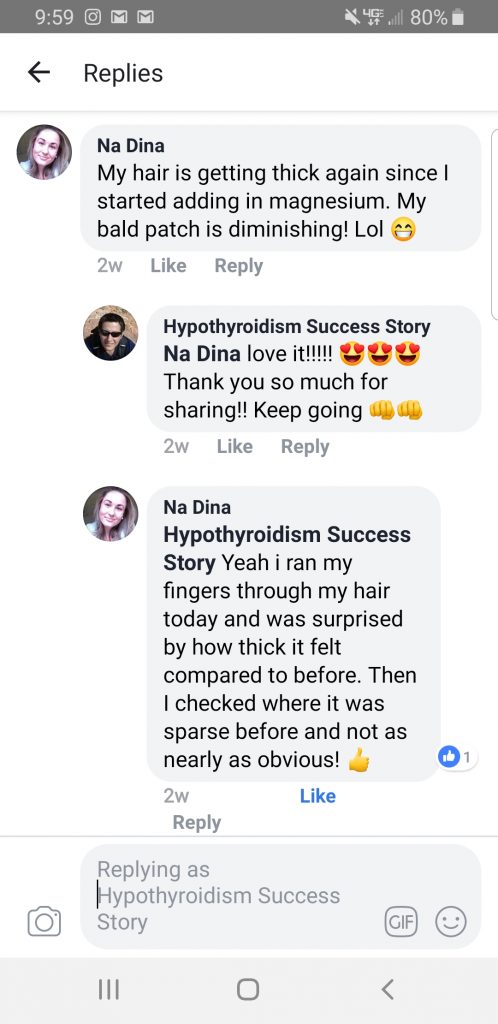 Finding The Root Cause of Thyroid Hair Loss
"Any good gardener can tell you that if you have a plant and the leaves start falling off, the problem is not at the leaf… the problem is at the root!" – Alejandro Junger
I first heard that quote (my paraphrase) while I was watching a video of Dr Alejandro Junger, author of the book Clean Gut.
I thought to myself…
"When your hair starts falling off, the problem isn't at the hair… it's in your gut which is the equivalent of the root of a tree…

A tree gets all its nutrients through the roots…

Your body gets all its nutrients through your gut…"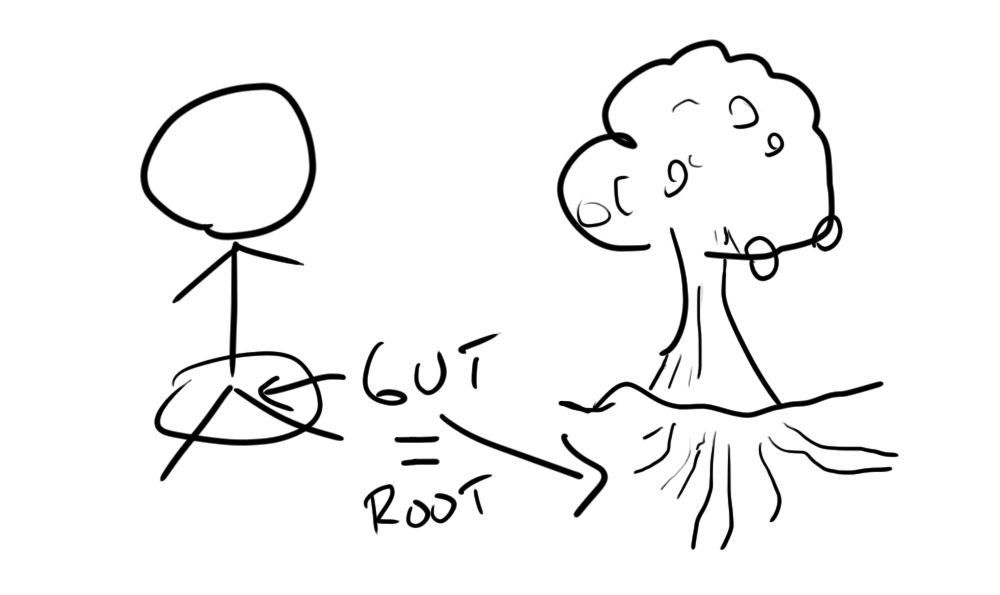 I was starting to understand that there are many reasons why your hair falls off, but ultimately they all stem from the one root cause I knew I needed to fix… my gut.
Below I'm going to share what I learned through my own experience… I'm not a doctor and your results may vary, but I hope to share with you as much information that I know helped me grow thick and strong healthy hair, skin and nails (yup… three birds, one stone)…
… and while some of the things I'll share may sound simple… like TOO SIMPLE that you may think, that can't be it… I urge you to look into it further because this worked for me and is also working for others who are taking this information and running with it….
The first one is water + minerals…
Yes…
Drink more water!
… and add minerals…
This is where it all starts… making sure you are properly hydrated is the first step to addressing common nutrient deficiencies like:
Iron
Selenium
Cholesterol
Iodine
Zinc
Magnesium
Vitamin D
Vitamin B12
Silica
… & other issues like
Adrenal Fatigue
Low stomach acid
Autoimmune disorders – Alopecia Areata
Thyroid Peroxide Antibodies (TPO)
Thyroidglobulin Antibodies (TgAb
Testosterone – too low or too high
Blood sugar imbalance
These are the areas I focused to grow thick hair again…
#1 Gut Health
I've read and seen many articles related to thyroid hair loss… many of them are good and give good recommendations for supplements (some of which I'll share down below)…
… but many of these articles fail to point out a KEY point…
The body uptakes nutrients through your gut AND that depends on your gut flora…
For example… two basic and key nutrients you need to grow thick hair are protein and iron.
You can eat more protein and supplement with iron, but you'll find that alone won't work if you have poor gut health…
That's why we started our Facebook group Optimize your microbiome to teach how to improve gut health
It's not so much protein you need to worry about but rather amino acids which is the end result of digesting protein… if you can't digest protein, you won't get the amino acids needed to grow hair… or make hormones…
Same with Iron… you can supplement iron, but if your body doesn't uptake iron (which happens when you have poor gut health) then you'll end up with…
#2 Low Ferritin
Your body needs to be able to store iron in the body, so you can check for what's called your ferritin levels to see if your body is properly storing iron.
Ferritin levels are usually not tested, so more than likely you'll have to specifically request for this test…
Low ferritin levels are common with hypothyroidism especially women who've experienced major blood loss through irregular heavy menstrual cycles or post pregnancy…
I started reading up on ferritin and hair loss and came across this article by Dr Lauren Deville who says normal ferritin levels need to be at least between 50-70 ng/mL to stop hair loss…

In other words, your ferritin levels can be "normal" or within range, but still experience hair loss unless you're at optimal range 50-70 ng/mL.
Now… you'd think that you can go pick up a grass fed steak and get both protein and iron from it… but again if you have gut issues, your body won't digest food and you get neither amino acids or iron from your food…
That's why from the very beginning when I shared my video on foods I eat for hypothyroidism my emphasis was on fermented foods…
That was my advantage… I was a home brewer and understood fermentation, enzymes, and bacteria very well… and our gut is just like a fermentation vessel…
What has helped me the most was changing the way I prepare foods… I realized I needed to make and eat foods that were easy to digest and help restructure your gut flora.
I joined traditional cooking school and went through both Fundamentals I and Fundamentals II eCourses as well as all three "Stepping it up" eCourses, with emphasis on lacto-fermentation to heal my gut…
As I healed my gut I noticed not only my hair grow back to normal, but I also got my energy back and was finally able to lose weight again…
Since I had digestive issues I had to seek out easy to digest proteins like bone broth protein… for iron I turned to an easy to digest iron supplement though nowadays I get it primarily from grass fed beef organs and grass fed, grass finished beef coming from farms that follow regenerative farming practices…
#3 Cortisol
One thing that kept bugging me was joint pain… weak muscles… and I never would've thought it had to do with my gut.
I remember when I first started reading up on cortisol… I became aware that this was the "hair loss" hormone…
I found this when my body started to release cortisol to the point of adrenal fatigue and ended up cycling between high and low levels of cortisol, that's what was going on that day in the shower when my hair was thinning, breaking and falling off…
It was a big Eureka moment to realize that the body releases cortisol when it doesn't get adequate protein… it releases cortisol to break down muscle (hence the weak muscles and joint pain) to get the nutrients it needs…
Why?
Because my gut was "broken"… I was not digesting food properly or uptaking nutrients.
That's why again, the foods I started to eat from that point forward focused on eating easy to digest meals and fermented foods that helped heal my gut and improve digestion like kombucha.
#4 Low Stomach Acid
Going back to digestion, I was watching a video by Dr Jerry Tennant who said the body needs iodine to make stomach acid.
If you have low stomach acid, your body can't digest protein.
I also know this from brewing beer… protein requires a lower pH than carbs for digestion…
Stomach acid is what lowers pH in your digestive tract so your body can digest protein… but if you have low stomach acid, your body can't break down protein efficiently.
The body needs protein for hair, skin and nails… it also needs protein for the liver to convert the thyroid hormone T4 into T3… so hair, skin, and nails will go first…
Are you starting to see how important digesting protein is for thyroid hair loss?
Note how many people feel a lot of relief when they stop eating heavy protein foods like gluten (protein), grains (that contain gluten), dairy…
It's because the body can't digest proteins if you have low stomach acid or if your gut is broken!
Stomach acid was one of the easiest to solve…
Make sure your body has iodine
Drink water with lemon (12-16 oz) about 30 minutes before meals…
… or drink raw apple cider vinegar or kombucha in the morning… 
Start looking into intermittent fasting and other ways to clean up your gut…
#5 Autoimmune Disorders
90% of people with hypothyroidism have hashimoto's which is an autoimmune disorder…
Some people are told they have Alopecia Areata which is also an autoimmune disorder that attacks hair follicles leaving you with patchy bald spots…
The word SIBO is starting to show up more in the hypothyroidism world… SIBO stands for Small Intestinal Bacterial Overgrowth…
When I talk about healing your gut that's exactly what I'm referring to.
I realized that I had bad bacteria growing in my small intestine…
Many people know they have yeast overgrowth as in yeast candida… that's only one of many bad bacteria that can grow in your gut.
Here's what's important to understand…
Bacteria in your gut release enzymes… good bacteria release enzymes that digest food for you… bad bacteria release enzymes that are toxic and in some cases attack you!!
That's why it's autoimmune…
One way to find out if you have bad bacteria in your gut is by asking for tests like TPO (Thyroid Peroxidase Antibodies) and Thyroid Globulin Antibodies…
Most doctors won't test you for this, so you'll have to request it…
I watched The Thyroid Secret documentary and learned about these and other tests most doctors won't have you take, yet are very revealing to what's going on inside you.
Most issues can be traced back to your gut… that's why when I started to eat lacto fermented foods and other easy to digest foods I started to notice my gut issues go away, joint pain was eased, my energy came back, and I stopped gaining weight.
# 6 Hormone Imbalance
Everything started out because I was going through a hormone imbalance… think of it as an overproduction of some hormones, and underproduction of others…
I mentioned above that cortisol is your "lose hair" hormone…
Similarly, there is a "grow thick hair" hormone and that happens to be the thyroid hormone T3…
My body was not getting enough T3…
I did research and as I was going through a program called Hypothyroidism Revolution I understood that I could take as much T4 as I want to… I can get my thyroid to produce as much T4 as I can, but if my liver can't convert T4 into T3… the end result is still hypothyroidism…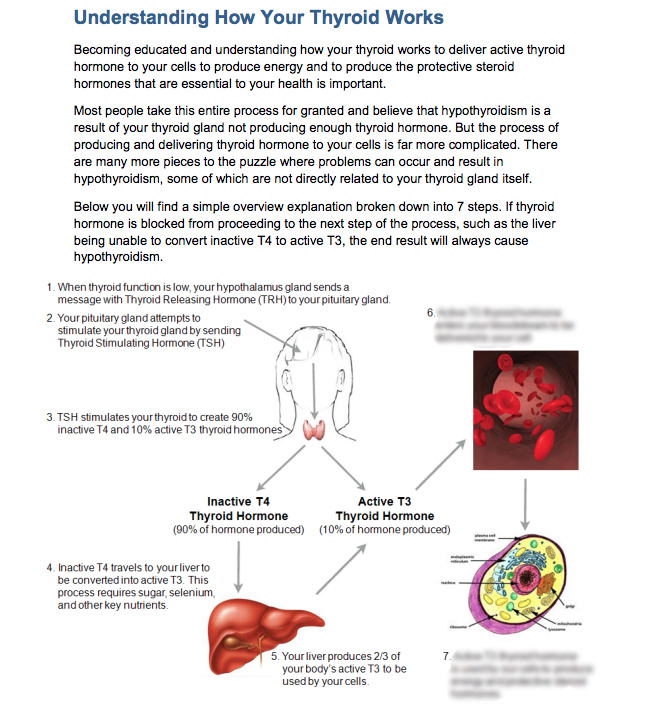 See the image above and notice how the liver needs adequate protein, and other nutrients like sugar and selenium to properly convert the thyroid hormone T4 into T3.
Many people with hypothyroidism are selenium deficient… and I point out to them that you can supplement with selenium, but if you have digestive issues, your body won't uptake it as well and you still need to get adequate protein…
Now follow, because we're getting to the core of this here…
One thing that I know caused a lot of my gut issues was over consumption of sugar…
Yes, me…
I had a sweet tooth for the longest time…
… and one thing I know about yeast from brewing beer is that yeast LOVE sugar.
Sugar feeds all kinds of bad bacteria in your gut including yeast candida. So you could be eating sugar, but instead of it getting to your liver, you are feeding your yeast candida, which is why many people do well on a keto diet for hypothyroidism.
A ketogenic diet helps reduce yeast candida because you stop feeding them… so you can use a keto diet strategically, but understand that the overall goal is to balance blood sugar and reduce the population of yeast candida.
Izabella Wentz, author of the book Hashimoto's Thyroiditis: Lifestyle interventions For Finding and Treating The Root Cause and The Thyroid Secret, says on her website that blood sugar swings encourage the production of Reverse T3, an inactive form of T3.
Blood sugar swings brought on by eating too many carbohydrates and not enough quality proteins and fats can wreak havoc on your health and hair! Blood sugar swings encourage the conversion of T4 to reverse T3. Reverse T3 is an inactive hormone that blocks the body's utilization of T3, resulting in increased hair shedding.
Another hormone imbalance that leads to hair loss is Testosterone…
Whether your body is lacking testosterone or producing too much, the end result is hair loss according to Dr Axe.
Summary of Dr. Axe's method to grow hair

Lower DHT (DiHydroxy Testosterone) with these 6 foods

#1 Saw Palmetto – 1,500 mg per day

#2 Adaptogenic herbs (reduce cortisol levels)

#3 Pumpkin Seed Oil – One tbsp a day

#4 B-Complex vitamins – Biotin and B5 (Panthotenic Acid)

#5 Supplementing with Zinc

#6 Get more Omega-3 fatty acids from fish oil
When your body doesn't produce enough testosterone, you become estrogen dominant… I see a lot of people who start taking progesterone cream, which I've heard works well, but it's a band aid fix since the real problem is that the body isn't producing hormones properly.
Our program focuses on growing probiotics because it's probiotics that produce key nutrients, vitamins and hormones for you…
One of the key nutrients needed for hormone production is Vitamin D…
Vitamin D is another metric that most doctors won't test for unless you ask specifically for it.
When I was tested I was low at 22 ng/mL… this was a clear indicator and deficiency that resulted in low testosterone…
Too much testosterone actually means you have high levels of DHT (DiHydroxy Testosterone) which also leads to hair loss…
Supplements and Nutrients Needed for Growing Thick Hair, Strong Nails and Radiant Skin
To sum this up…
I personally don't recommend any supplements for hair growth…
Instead I focus on addressing nutrient deficiencies…
Following are the nutrients I found helped me grow thick hair again…
#1 Collagen
#2 Vitamin C
#3 Silica
#4 Trace minerals
#5 Zinc (pumpkin seed oil)
#6 Vitamin B12 & Complex B
#7 Iron
#8 Selenium
… but you can only get these nutrients by eating the right foods and healing your gut…
If you are looking for hair products to help you grow thick strong hair, here's what I found works best…
Again, while the hair products work, it's not effective on it's own… you'll notice better results if you work on your gut health…
If you want to learn more about how to improve gut health to get more energy, sleep better and lose weight, then check out our free 30 Day Energy Jumpstart eCourse